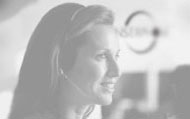 WEB, EMAIL, FAX, TEXT MESSAGE, PHONE CALL

At the call center we collect information from your callers. But that is only half the story. At some point you are going to want to know about the information we have taken on your behalf.

Push or Pull: it's up to you.
You are busy otherwise you wouldn't need our service. We allow you the flexibility to decide how you want to receive your data. We can send it to you via some of the traditional methods: fax, email, text message. You can also pull the information at your convenience: downloading to your computer, calling into our system.

Miss something?
Call us to discuss the options that best integrate with the way you conduct business.