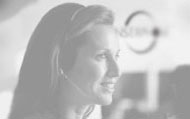 WEB INTEGRATION

You have an existing process within your organization that is pretty efficient. However, there is wasted time and effort when it comes to the information taken by outside staff. If your staff must enter data that has already been taken by another process, there's room for improvement.

A better mousetrap:
You already have put a lot of thought and effort into designing a process that best fits your needs. There are real cost benefit savings to be obtained if all the data is in the same place. The problem is now to merge your staffs efforts with ours.

You say intranet. I say extranet.
Let Call Experts be an extension of your staff. Whether we enter data onto your website, or we send you a set of files that you can import, or we login thru a VPN to your systems to do some work, together we can design a solution that makes sense.