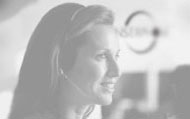 CALL SCREENING

Screening is a term that we generically refer to as the use of some sort of voicemail menus system prior to an agent's involvement with the transaction. It can be informative/directive in nature and as complex or simple as it needs to be. Screening is particulary effective at reducing a client's invoice.

Main greeting example:
Thank you for calling Call Experts. Our administrive office is open 9am-5pm Mon-Fri. If you have an issue that requires immediate attention; please press 1. If your call can be handled during our regular hours; press 2.

Analysing the screening impact
The greeting is played at the first ring, and it begins by announcing the company the caller has reached. Next it informs the caller of the regular office hours. The caller immediately knows where they have reached and whether the office is available. This is quite useful for the callers who were "just trying to catch you before you left the office".
The next statements lets callers know what to do for further action. A simple either/or choice is best. Callers usually don't like many choices. From this example, the caller knows right away how to reach an agent for more help. In this way, the caller does not feel isolated in an impersonal voicemail jail.
Additional sub-menus announcements and choices might be placed if the caller presses 2.