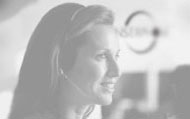 CLINIC SERVICES

A clinic is more than just the sum of its parts. It provides an all inclusive health care experience. As a result you have a diverse range of calls and needs.

Getting there from here.
Each unit within your clinic may have different requests. For example, the billing department may want one set of questions, while a request for lab results need a different set. With scripting or voicemail the calls will be routed to the appropriate scripts. Patient information can then be collected. The request can then be delivered to a telephone, a fax machine, placed on a secure web site, delivered via email, or any combination by your design.

Increase Your Capabilities
Administrators will be pleased with Call Experts's on-line reporting capabilities. Front desk staff will enjoy the timesavings of messages sorted and delivered to their specifications. Doctors will like the latest in messaging that we can offer. But perhaps most importantly, callers will appreciate experience of dealing with a professional staff.