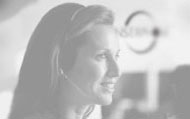 STAND-ALONE BOXES

A stand-alone voicemail box is very similar to an answering machine. However, they offer quite a few additional benefits.

Features and benefits:
Multiple announcement capability
Time of day behavior changes
Web Access to messages
Notification for messages
Remote notification list management
Caller ID
No equipment to buy or maintain
No phone service to order
Protection from power failures

Putting it to work for you.
A voicemail box from Call Experts can be perfect for occasions when you don't wish to use your own telephone number. For example: selling a house or car, or RSVPs for a surprise party. It can also be used in conjunction with your existing phone number to extend any of the benefits listed above to your business.